If you are having a dog pet then dog collar bells are mandatory products when it comes to your dog care. By these bells, you can keep an eye on your pet. Their pleasant sound lets you that where they are roaming. It also helps their prey to escape. These collar bells are also a sign that your dog is a pet.
Your pet can't stay in one place and that's why you are worried about it every time. When you will place a collar bell on its neck you will hear a sound, when it moves. This will help you to know where your dog is and you will be worried less. There are many varieties of dog bell collars but this needs to understand that which collar is preferable for your dog.
Your dog will enjoy it and you will be peaceful from itself. Many people want their dog collar bell to be unique and as well as that can exaggerate their dog's personality. Do make sure that you are buying the most suitable and comfortable bell collar for your loveable dog.
If you are also exploring any of the best dog collar bells for your beloved dog, you are at the very right place. Here I will tell you about the best Dog collar bells. The popular types are
1. Coastal Pet Products:
These metal round shaped dog bells are composed to perfectly fit in any collar. These collar bells are specifically customized for small pet dogs. These bells are available only in one size 1 x 1.5 x 1 inch.
Pros:
Entirely fits in any collar.
Cheap.
Won't rust or discolor when contact with moisture.
Cons:
Small in size, cannot go for larger dogs.
Not too loud.
2. Coastal Pet Nickel-Plated bell:
This product is Nickel plated bell which has a small size but a good volume to hear at a distance. This bell can be attached to any collar. This the best thing especially when you are training your dog outside. This nickel-plated bell comes with a nylon strap. If it is not suitable for your dog you can also return it.
Pros:
Attach with any collar.
Good Volume.
Returnable.
Best for training.
Can be either used for small or larger dogs.
Cons:
3. BINGPET Luminous Dog Collar :
This cute dog collar with a bell is replaceable. It is a good quality product. This collar is adjustable, you can also exact size of your dog's neck. This collar is luminous which means it has cute stars and moon designed on it which will glow in the dark or night.
If you take your dog for a walk at night or early morning this collar will glow. It is also soft and breathable so your dog fell ease and enjoys it. It is made up of firm material so cannot easily fall off but on the other hand, it is easy and simple to open.
Pros:
Replaceable.
Can glow in dark.
Adjustable size.
Soft and breathable.
Firm.
simple and easy to open.
Good-quality product
Cons:
There is no bad thing in it. Everyone brought it is satisfied.
4. Doc Brother Brass Bells for Dog Collar:
These Brass bells can be attached with any collar with the key ring available in the package. The bells have different sizes. Order the size which you want. These bells provide a cherish jingle sound. These bells can either used for birds or pet cats.
Specially designed for the outdoor activities of cats and dogs so you could easily find where they are roaming. This item is returnable if you find a problem with it.
Pros:
Loud.
Pleasant jingle sound.
Your pet will love it.
Cons:
May not be solid brass.
Rings are attached to bells.
5. Chede Bow Tie Dog Collar:
The collar or tie has a bell attached to it. The collar fits the neck width "8-10". The package consists of two different beautiful designed collars for different situations and a leash of 120 cm that makes it easy to go out for a walk or anything else.
This collar is soft and comfortable for your pet. Inside soft PU is covered with pure cotton which makes it more graceful. This beautiful collar is designed safe, it will not harm or hurt your dog. These two classic collars design are in trend and makes the look very gentle to people.
The D-ring has a cute little golden bell which makes a crispy sound when the dog moves. If you don't want that bell on you can also remove it.
Pros:
Available in different colors.
Contains a leash that makes it easy to control your dog.
Trendy collars provide a gentle look.
Soft and comfortable.
cute golden bell.
safe for your pet.
Cons:
Not available for width more than "8-10".
6. Auburn Leather crafters with Leather Strap – Dog Collar Bell;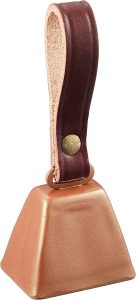 This classic bell indicates simplicity and simple times before. It is attached with a leather strap and can be attached to any dog collar or you can also place it in any of your livestock's collar. This bell enhances an elegant look to your dog.
This helps you to track your pet. It let the prey run from your dog. This product is available in three sizes-small, medium, large.
Pros:
Looks elegant.
Loud.
Sizes available.
Attached with a leather strap.
Also suitable for other life stock and other pet animals.
Cons:
It May not loud for some customers.
7. SCENEREAL Large Dog Collar Bell:
This package includes two bells. One is a gold-plated steel bell and the other is a silver-plated steel bell. These bells are only suitable for large cats and dogs. It is made up of stainless steel.
Nylon strip to fastly put it around the collar. It is very accessible to put on and remove. These bells have minimum motion clappers which makes a sound even after the slightest movement so you can easily hear from a distance and find its location.
It is safe outside, specially designed for hiking, field survivor, rescue, or daily training.
Pros:
Loud enough.
Easy to put on and easily takeoff.
Makes sound even after the slightest motion.
Perfect for outdoor activities like hiking, rescue, daily training, etc.
Cons:
Not suitable for small cats and dogs.
8. Jingly Metal Buckle Pet Collar:
This unique style of dog collar is made up of good quality leather. This available in many other colors. This collar makes your dog look completely different and elegant. This collar has a small and cute jingle bell attached to it which makes a sound on its movement. Sizes are available as small, medium, and large.
Pros:
Loud sound.
Elegant look.
Made from good quality leather.
Easy to access.
Cons:
Barely used as a dog bell.
9. KOOLTAIL Reflective Small Dog Collar:
This Collar is with a broad demonstrative appearance, enable your dog to be seen quickly while you run or walk the dog at night. Safe for both you and your beloved dog. Made up of high-density nylon, metal bell, and D-ring, which is long-lasting, soft, and firm. It has length 10.4″ to 16.9/5″ and 3/5 width.
It has a Candy color, a delightful color that makes your beloved dog look more attractive and cuter. Good for all sorts of situations, such as festival wear, every day.  A ringing bell, you can quickly find your pet while the pet is running or walking, and you can take it off if you like.
Pros:
Safe for your pet.
Loud.
Long-lasting.
Easy to access.
Removable bell. Made up of durable nylon.
Cons:
only suitable for small dogs and cats.
10. RYPET Loudest Dogs Collar Bells:
This Dog Collar Bells Set comprises 24 bells in many color combinations. Simple to put it onto a pet collar. It has different sizes in D-ring. These dog collar bells are loud and pleasant to listen to.
It is a customized Continuous stainless-steel design and holds in pairs for full loudness. Each Small Bell is of 0.55 "diameter, perfectly shaped to suit the needs of pet dogs. This Package includes 4 dog Collar Pendants and 24 dog Collar Bells. These bells are strong and cannot break easily.
Pros:
Loud enough in pairs.
Available in different sizes.
Stainless steel.
Cannot be easily broken.
Pleasant sound.
Cons:
Faqs:
1. Are dog collars bad for dogs?
Just one real advantage of the dog wearing a collar instead of a brace is that it's quicker and easier for the dog's owner to walk. The Risks of Using Collars: Neck Injuries-Only one instance of pulling or moving quickly to the end of the leash may potentially cause significant neck injury.
Modern collars can damage the dog's neck if it struggles strongly on the leash or if the dog owner utilizes a collar to pull the dog along. The amount of resistance on the neck can also contribute to long-term medical problems, particularly damage to the glands and muscles around the neck and salivary glands.
3. How to find which collar suits the dog?
A plain collar must comfortably fit close to your dog's head. It's not meant to be as close as to trap your dog, or as free as they can escape out of it. The principle of thumb states that you'd be able to even get two fingers beneath the collar.
4. Do dogs hates to wear collars?
Dogs usually don't have a problem with wearing collars.   As far as it's secure and not too heavy, the dog may become used to carrying a collar and may not even know it's still there.
5. Why is there necessarily a need for dog collars?
Every dog wants a collar, mostly as they need somewhere to attach their leash, passport, Identification, and rabies vaccination tags. Some could be used to train the dogs, to prevent them from barking, to fend off insects and pests, or to avoid injuries. Not all types of collars are ideal for all dogs.
6. Is it necessary to wear a dog collar 24/7?
No wonder what collar you use, it's generally better that your dog doesn't carry it 24 hours a day, particularly when your dog lives within your home. The much more noticeable moment that the dog does not wear a collar is all night long.
7. What is the best age for your dog to wear the collar?
I suggest that you wait before they're 10 weeks old. But by becoming used to a harness and a leash until they're 10 weeks old, they'll be happy carrying them for 12 weeks when you can start going outside.
8. Why is it a legal requirement that pet dogs should wear a collar?
It is a legal obligation for dogs to carry collars in society. To avoid a heavy fine, owners must also make sure that now the dog displays its contact information. By rule, when a dog is in a public area, a leash must be worn.
9. Are dog bell collars suitable for dogs?
Yes. the dog will enjoy it every time he moves. But don't let it wear 24/7. Keep a separate collar with a bell for your dog as you take it out your dog becomes excited that it's time to go out or for work. Long term use may also harm it's hearing. So, don't put the bell all time. Long time use of a collar may also damage its nerves.
10. What kind of collar is appropriate for a dog that keeps pulling?
When walking the dog, we always favor a no-slip collar (also called a martingale collar). That way, if a dog tries to hit the brakes and force them out of the collar, they genuinely can't be in danger of being lost. But as long as your dog finishes pulling, the collar will relax.